Life History of Ella Sessions Tolman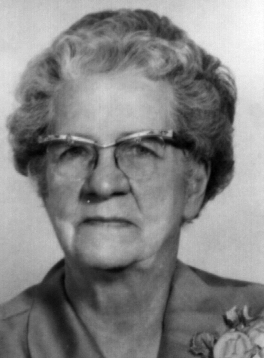 Written by herselfóWinter of 1956
I was born in a seven room frame and log house, being the eighth child of ten children in the family. I was always a healthy child with light curls hanging down my shoulders.
I had a brother just older than me who was very good to me, especially when I first started school. Anson was his name. He died when he was ten years old with diphtheria, which was a very dreaded disease. At that time, the doctors didnít know how to handle or care for as they do now. There were six of us children sick with it when by brother died. Emma, my older sister, wasnít expected to live at the time, but she got well and is living yet.
Two of our good neighbors came and fetched a white casket and some white clothes to bury my brother in, and went back to the front gate and called father to the front door and told him they would come for my brother and bury him after dark that night.
The next winter, I had the diphtheria again, and mother and me were quarantined in a room by ourselves for about six weeks. As a result, I was way behind the other children of my age in school. I had some very good friends and a good school teacher who helped me make up some of my work, and I made one grade in two years.
I had some very good parents who not only taught their children the gospel, but lived it themselves. We had family prayer twice a day, blessing on the food before each meal, and each of us children were taught to take his or her turn in prayer.
In our home we had a large family Bible with colored pictures in it, with the story it represented written below the picture. It was a great joy on the long winter nights to get the Bible on the dining room table and Mother read the stories and let us younger children look at the pictures. And to this day, when I hear some of those Bible stories, I can see in my mindís eye the picture that went with it.
My father farmed 160 acres of land and run cattle. About this time, he built an eleven room red brick house, which still stands, and is the home of Ivan, my brother.
Our main sports were going to Mutual Sunday nights, sleigh riding, and dancing. We also used to have house parties for amusement. I believe I used to like to dance and sleigh ride better than any other amusement.
My husband and me were raised within a mile of each other, went to school together, and run around in the same crowd when we were young people. We were married 10 June 1915 in the Salt Lake Temple.
I was sustained a Primary teacher when I was fourteen years old, and when I was seventeen years old, was asked to be Sunday School Teacher. I have worked with children most of my life. When I was married and had children of my own, I could go to Primary and Sunday School with them and know what they were doing and where they were.
It has been one of the greatest joys in my life to see our family grow to womanhood and manhood and accept responsibilities in the church.
I was operated on for appendicitis on 10 June 1914 in Soda Springs, Idaho, by Dr. Kackley and again on the 14th July 1924 for female trouble in Soda Springs by Dr. Kackley. On the 18 of May 1958, I was operated on for gall stones, and a serious heart condition developed right after the operation, which left me weak and tired, and life has been very hard to get along with.
Following is a list of the different positions I have held in the Church: In Chesterfield Ward, Bannock Stake, I was Assistant Organist for Sunday School in 1907; Primary Teacher in 1909; Sunday School Teacher in 1910; and Y.L.M.I.A. Secretary in 1915. In the Pocatello 4th Ward, Bannock Stake, I was Primary Teacher in 1921; First Counselor in the Y.L.M.I.A. in 1922; Relief Society Ward Teacher in 1921; and Sunday School Teacher in 1922. In the Paul Ward, Minidoka Stake, I was Primary President in 1927; Relief Society Ward Teacher in 1925; Assistant Ward Organist in 1926; and in 1935 I was a member of the Minidoka Stake Primary Board. In the Rupert Third Ward, Minidoka Stake, I was 2nd Counselor in Relief Society to Bertha Fowler in 1941; Relief Society Theology Teacher from 1939 to 1951; and Junior Sunday School Teacher in 1955 and 1956. I was called to a Stake Mission from 1950 to 1952 and again on a 2nd Stake mission from 1952 to 1954. On both missions I served with my husband, Fred Tolman. The above dates were when I was set apart for these positions, having served in several of them for more than a year.
I have been active in doing Temple Work and have completed 550 Endowments for the dead. I have also helped with numerous sealings.
This history is complete as of April 2, 1969.
Life Sketch of Ella Sessions Tolman
Given by Karen Harmon, March 29, 1986, at Ella's funeral
Ella Sessions Tolman was born May 27, 1895 in Chesterfield, Idaho, to Keplar and Ann Call Sessions.
Grandma always said that she had some very good parents who not only taught their children the gospel, but lived it themselves. They had family prayer twice a day, and each child was taught to take his turn in prayer. There was a large family Bible that was kept on the dining room table. Grandma said that during the long winter evenings, her mother would read stories from the Bible and let the younger children look at the pictures that accompanied the stories. This was an influence for good in her life. She told me that throughout her life, whenever she would hear one of those stories, she could see the pictures that went with it in that family Bible.
Grandma grew up with in a mile of her future husband, Fred Tolman, and they were married on June 10, 1915 in the Salt Lake Temple. Grandma and Grandpa lived in Chesterfield, Pocatello, and Paul before moving to Rupert, where they have lived since 1934.
From the time she was very young, Grandma had a mind of her own and was very independent. She always knew what she wanted and what she felt was right. Dad told me that whenever Grandma and Grandpa had a decision to make, they would discuss it. Even though Grandma didnít always agree with Grandpa, she would say to him. "If thatís how you feel, thatís what weíll do." She was always there to stand beside him and support him as the head of the family.
As a mother, she was always there when she was needed. I heard her say more that once, "Arenít you supposed to take care of your family first and then other requirements after?" It didnít matter what was proper and right for the world. It was what was proper and right for her husband and her children that mattered the most to Grandma. With all of us, her children and grandchildren, Grandma always said what she meant. She wanted us to do what was right and was concerned about choices we made that maybe werenít right. With Grandma, there was no gray area, but she accepted and loved each of us for ourselves.
To all of us that know and love Grandma, we appreciate her sense of humor and her beautiful handwork.
Grandma has always had a strong testimony of the gospel and loved the scriptures. From the time she was fourteen until she was no longer physically able to serve, she held many, many church positions, including thirty years in the Primary Organization. She and Grandpa filled two stake missions and spent many hours doing temple work. She did at least 550 endowments and helped with numerous sealings.
Grandma was a member of the Daughters of the Utah Pioneers, and her heritage was really special to her. The faith and trials of her parents and grandparents was the foundation of her great faith. She felt the faith of those dear people, and this helped her to have a positive outlook on life. It was that great faith that brought her through many hard times.
Grandma and Grandpa always had beautiful gardens with flowers in abundance, surrounding their homes. They set an example for all of us in the neatness and cleanliness of their homes. I always remember that their garage was always neat and the barn was clean. Weeds had no place at Grandpaís and Grandmaís. They always had beautiful flowers inside their home which added to the beauty and the peace we felt when we were in their home.
Grandma has completed her earth life, and has proceeded to the next step in her journey through eternity. She leaves her beloved husband, Fred, her daughter, Thelma Wrigley, and her four sons, Carleon, K. C., Glen, and Ivanóall of whom are here today except for my dad, K. C., who, with his wife, is serving a mission in South Carolina. She leaves one sister, Bregetta Smith, 17 grandchildren, 73 great-grandchildren, and 12 great-great grandchildren.
Grandma and Grandpa, we love you.
Written by Cleone Heaps and Karen Harmon.
Sedgwick Research's Thomas Tolman Family History Site