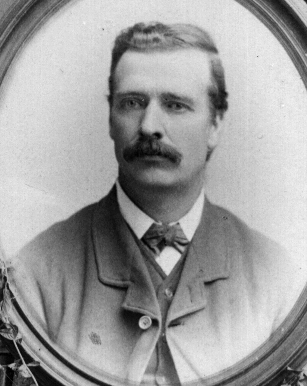 RICHARD SEDGWICK
First Member of the Church in Sedgwick Family Line.
Richard Sedgwick was born May 12, 1849, at Barnsley, Yorkshire County, England. In August 1862, he went to work for Mr. Thomas Carter, a picture-frame maker, and afterwards was bound apprentice to him.
He was converted to restored Gospel of Jesus Christ when fifteen years old, but because of his age he could not be baptized without his parents' consent. When he decided to emigrate to America, he was baptized a member of The Church of Jesus Christ of Latter-day Saints the 5th of April, 1866, in the river Tees, near Middlesbrough, Yorkshire, England, by Elder John Scott.
In the Spring of 1866, he, with his close friend Robert Aveson, decided to leave home and emigrate to America. He had saved enough money to take him to New York were he expected to stay a while then go to Salt Lake. They made arrangements to sail on the American Congress, sending their money to secure a berth. They were notified that the American Congress would sail from London on the 23rd of May 1866. This gave them ten days notice. A group of Saints were sailing from Sunderland by steamer to London on the morning of May 19th. They decided to go with them as it was cheaper than by rail. The evening of Friday, May 18th, after telling his parents and employer that he wanted to go to Hartlepool, he took a box which contained a bed quilt, some books and other things, crossed the river Tees, where he met Robert, and took the train from Port Clarence to Sunderland, arriving there about 7:30 p.m. They secured lodging for the night which cost them four pence (eight cents) a piece. The next morning they boarded the steamer, General Havelock, and sailed about 8 o'clock for London. He (Richard) became acquainted with many of the Saints on the boat, and had a very pleasant trip, arriving in London the following day (20th) about 2:30 p.m. The following morning they were told that the Saints may not be permitted to sail until the next boat. This caused Richard and Robert to worry because they did not have the means to stay two or three weeks until the boat started, and because they were afraid they might be sent for and taken back to their homes. However, President Linford went to Liverpool to see Brother Brigham Young Jr., and returned the following day (22nd) with word that it would be alright for the Saints to sail on this boat.
That evening the ship was towed down the river to Shadwell Basin from where it was to sail the next morning. About 7 o'clock a meeting of the Saints was held on deck. Quite a crowd of spectators were watching from the shore. Among them was a man who stared intently at Richard and Robert. Early next morning (23rd) Robert went ashore for a supply of water. He returned and was on deck with Richard when Mr. Carter and another man, a detective who had seen them the night before at the meeting, appeared with a summons for them for absconding their apprenticeships. So after bidding a sad goodbye to the Saints, and getting their tickets they were hurried with their box to the Thames Police Office. They were given breakfast and after dinner were taken to Islington to Brigham Young Jr.'s office where the detective and Mr. Carter tried to cash their tickets. But they were told that Brigham Young had gone to Liverpool, but if the two boys would send their tickets to George J. Lingford at Sunderland, their money would be refunded. They returned to the Police Office where they were given supper and locked in the cell for the night. The next morning they were handcuffed and sent back to Middlesbrough with an officer from home. That night Richard's father brought him some supper to the cell where they were locked for the night. He did not stay long, but his love for his son was truly manifest. Richard could not eat that night. The next morning at their trial the judge sentenced them to go back and work for their employers and the expenses were to be taken out of their wages.
On Friday, June 1st, the following clipping appeared in the Middlesbrough news:

Saturday.--Before W. Fallows, Esq.

OFF TO MORMONDOM.--At this court, two youths named Richard Sedgwick and Robert Aveson, the former an apprentice with Mr. Carter of Gosford Street, and the latter with Mr. Gould of South Street, Printer, were charged with absconding on the 18th ult. The lads, in company with a young man who has joined the Mormons and succeeded in converting the lads to his views, went to Sunderland and from thence to London by the steamer Lady Havelock, en route for Utah. A warrant was sent after them, and they were apprehended in London and brought back to Middlesbrough.--Ordered to go back to their work, and the expenses to be deducted out of their wages.
On Sunday, June 17, 1866, the boys made another attempt to run away. Having received word from Sunderland that their tickets had been received, they planned to take the steamer Shields, and from there probably to some part of Scotland. Richard had about $5.50, and Robert had borrowed about $1.25. Their steamer was to leave at 5:00 o'clock. They were about to go on board when they saw a man whom they knew (a printer), boarding a steamer for Stockton. They dared not go aboard until the Stockton steamer had left for fear of being seen and reported. After the steamer left, they were about to go on board when Robert's mother appeared and they were forced to return home again. The next day, Richard helped Robert to get away on the train for Newcastle. He loaned him 12 shillings (which is $3.00). Richard went back to work and not until a year later did he try to leave again. The story is told in his own words:
I started from home on the first of July, 1867. It was on a Monday morning, and on Mondays, we used to commence work at 8:00 o'clock, while other mornings we began at 6:00. I took the train for Stockton (4 miles away) and on arriving I called at the house of Brother Thomas Watson, clerk of the Middlesbrough and Stockton Branch. The box, which we had with us when we left our homes the year previous, was at Brother Watson's house. I told him I wanted it as it was my intention to go to Liverpool, and from there to New York. Brother Watson was not in favor of my going away, and advised me to return home, but my mind was bent on leaving for New York and then get to Utah as soon as possible. He kept talking with me until I missed the train for Liverpool. This was unpleasant, as I was afraid Mr. Carter would send an officer after me.

Determined not to be baffled, I took my box, went to the station and waited for the next train, perhaps two hours, and arrived at Liverpool about 2 o'clock in the afternoon. It so happened that a steamer had to leave for New York early next morning. I went to 42 Islington, and got my passage money which I had paid to sail on the American Congress the year previous.

Next morning I was up bright and early and went aboard the steamer. The vessel sailed about half-past nine o'clock, and it was well she started at that hour, for I learned afterwards, by letter from my father, that as soon as Carter missed me, he lost no time in trying to have me brought back again. A detective was put on my track, who, fortunately for me, arrived at the Liverpool docks just a few hours too late.
Richard met Robert Aveson years later after he had landed in Utah. He worked in Brooklyn as a painter and paper-hanger. He lived about 15 years in Brooklyn before moving to Utah. He was married on the 2nd of July, 1868 to Mary Emma Hall. He came to Utah on the train, arriving on the 10th of November, 1882 and has since lived in Bountiful. He worked as painter and paper-hanger. He had 8 children.
He filled a mission to England from November, 1890 to February, 1893. While there he visited his hometown and saw his father once more.
Richard's wife Mary Emma died on July 2, 1916 at Bountiful. He later married Ada Hendrickson.
Richard remained in Bountiful until 1935. He became ill and went to Layton to stay with his son, Richard H. Sedgwick. He died there on June 9, 1935.
(Commentary by Joel G. Sedgwick, grandson): Richard Sedgwick changed his name from SIDGWICK to SEDGWICK. His application for United States citizenship on 16 April 1868, was as RICHARD SIDGWICK. The certificate of citizenship issued at Brooklyn, New York, on August 17, 1874, was RICHARD SEDGWICK. The exact date of the beginning of the use of the SEDGWICK spelling by Richard is not known for sure.
Links to more Richard Sedgwick materials:

Sedgwick Research Home Page (Index)

Richard Sedgwick Family Site

Richard Sedgwick's Parents and Descendants

Richard Sedgwick's Application for United States citizenship

Richard Sedgwick's United States citizenship certificate

Richard Sedgwick's 1870, 1880, 1900, 1910, and 1920 census information at Sedgwick.org. We have the 1930 census records and hope to add them soon.

Sedgwick.org's Richard Sedgwick page

Map of Barnsley, England

Map of Middlesbrough, England

Map of the Middlesbrough area, England

The History of the Middlesbrough area of England