Robert Aveson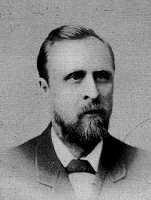 Aveson, Robert, one of the presidents of the fourth quorum of Seventy, is the second son of Thomas Aveson and Ann Fawcett, and was born in Bradford, Yorkshire, England, Aug. 22, 1847. On the 29th of February, 1860, he went to reside at Middlesbrough, Yorkshire, England, where he was bound apprentice to Mr. Joseph Gould, printer. In the summer of 1862 he made preparation to join a Baptist church, but receiving a testimony that "Mormonism" was true, he became very desirous to be baptized. To this his parents objected and the ordinance was deferred. For three years and a half he attended Latter-day Saints meetings, whenever opportunity offered, unawares to his parents. During that time, by dint of hard savings, he managed to procure money to pay his passage to the frontier. From 1862 until the spring of 1866 he gradually grew tired of the opposition manifested toward him by his parents; hence, although a bound apprentice, he resolved to leave home for Utah in May, 1866; he was, therefore, baptized March 25th of that year, previous to his departure for Zion. In company with his companion, Richard Sedgwick (an apprentice to a picture-frame maker), he started for London by land and water, arriving there on the 20th. Next day they went to the ship American Congress, which was chartered to sail on the 23rd of that month. On the morning of the 24th, just before the boat set sail, they were much surprised on being confronted, while on deck, by a London detective and Mr. Thomas Carter (Richard Sedgwick's employer). On the charge of absconding from their apprenticeship they were arrested. Hundreds of the passengers gathered around, and one of the most sorrowful scenes in their lives was witnessed, while they bid sad adieu to their many friends. The boys were then taken to the Thames police office. For the first time in their lives they slept in a cell. Next morning they were handcuffed and taken to Middlesbrough, where they spent another night in a cell. The following day they were tried and discharged; the decision of the court being that the expenses connected with their capture should be deducted from their wages. On the 17th of the following month (June), the two boys made their second attempt to leave their homes. As they were about to embark on a steamer, they were intercepted by Brother Aveson's mother. The next day (June 18th) Robert Aveson made his third attempt to leave home; he went to Glasgow, Scotland, from there to Liverpool, England, and thence to New York; here he met Elder T. B. H. Stenhouse, who engaged him to work in his printing office in Salt Lake City. He crossed the plains in Joseph S. Rawlin's ox-train, arriving in Salt Lake City, Sept. 30, 1866. In 1879 he received the glad tidings that his parents had joined the Church and in 1880 he emigrated them to Zion. Since his arrival in Utah, Brother Aveson has taken an active part in local affairs, both ecclesiastically, politically and socially. For eleven years he acted as assistant superintendent of the Twenty-first Ward Sunday school, and for four years was superintendent of that school. From December, 1883, until April, 1893, he served as Ward clerk of the Twenty-first Ward. May 30, 1869, he was ordained an Elder by Elder Elias Smith, and on the 18th of April, 1876, was ordained a Seventy by Elder John Lyon and became identified with the 37th quorum of Seventy; he acted as clerk of that quorum for seven years, and was also clerk of the temporary organization of Seventies in the Twenty-first Ward. When the 4th quorum of Seventy was reorganized and located in the Twenty-first Ward, in 1883, he became a member of said quorum and for about ten years acted as its clerk. Dec. 14, 1896, he was ordained a president in that quorum. April 15, 1893, he started on a mission to England. After laboring a few weeks in the Leeds conference, he acted for twenty-two months as president of the Manchester conference. He returned home May 6, 1895, after which he labored as a home missionary in the Salt Lake Stake of Zion for nearly two years. Elder Aveson has officiated for a great number of his dead relatives in the Logan and Salt Lake Temples. When the Twenty-seventh Ward was organized, Jan. 26, 1902, he was appointed clerk of the new Ward. He has been an energetic Sunday school worker for nearly twenty-five years, and is now a teacher in the Theological Class of the Twenty-seventh Ward Sunday school. He has a wife and six children living, is a printer by trade, and has been an employee at the "Deseret News" office for over thirty years.
This section is from Andrew Jenson, LDS Biographical Encyclopedia, Vol. 1, p.679
(For additional items in relation to Elder Aveson's life, see "Faith Promoting Series," Book 13 [Leaving Home].)
Robert was able to interview Martin Harris, one of the Three Witnesses of the Book of Mormon. Robert wrote of his experience in an article entitled "Three Witnesses to the Book of Mormon." The article was published in the Deseret News, April 2, 1927, and part of it was quoted in an article by Richard L. Anderson.
Sedgwick Research Home (Index)