HENRY ALANSON CLEVELAND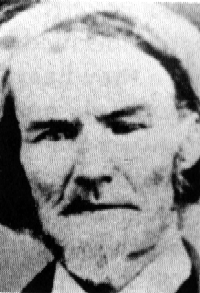 Henry Alanson Cleveland was born in Durham, Greene Co. New York on January 4, 1809. He was the third son of Searing Cleveland and Martha Matilda Wright.

In about 1830 he married a widow, Mrs. Anna Slade Rogers, daughter of Aaron Slade and Mary Knight of Marlboro, Windom Co., Vermont. (Mary Knight's brother was Joseph Knight.) They moved to Kirtland Ohio where they joined the church being among the first 150 members. They followed the saints through the eastern states to Far West. It was here on November 4, 1833 in the battle at Blue River that he was wounded. Like his neighbor, Philo Dibble, he survived and carried the bullet to his grave.

Henry and Anna's family consisted of three children. Henry Rogers Cleveland was born Liberty, Missouri on October 8, 1834, William George Cleveland in Far West, Missouri on May 20, 1837, and Antoinette Cleveland in Nauvoo, Illinois on June 27, 1844.

In 1852 they moved to Willow Creek and joined Captain Werner's ox train and started for Utah. They arrived in Salt Lake City on October 3, 1852.

He later served a short mission on the Salmon River.

They located in Centerville, Utah where he lived until his death in October 1867.