HISTORICAL SKETCH OF EMMI LETTI WILLIAMS PETERSON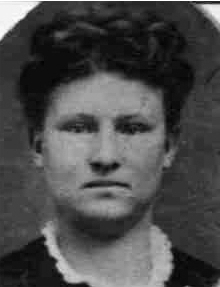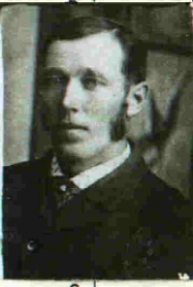 Emmi Letti Williams and August Peterson
As told to Maxine Waddell Hodnett by her mother Hilda Peterson Waddell
Emmi Letti Williams was born 4 September 1855 at the farm home of her parents, Charles Hall and Polly Ballinger Williams, in the Richland township of Mahaska County, Iowa. She was the fourth daughter in the family of eleven children.
She attended the country school and when she was grown she went to school at Peoria, Iowa, for one year with her older sister, Sarah Ann.
With her mother and family she went to the Christian Church and sometimes to the Methodist Church.
When the Ballinger family came up from Kentucky to Iowa about 1839, they lived at Montrose, Iowa, for several years and Emmi's mother, Polly Lester Ballinger, and others crossed the Mississippi River and went through the Latter-day Saint (Mormon) Temple after the Saints had left Nauvoo and gone west. Her brothers, Jesse and James Ballinger were investigating the Latter-day Saint teachings and her sister, Nancy, had married and gone west with the pioneers to Utah.
Emmi's mother felt very strongly that the gospel was true, but could not made up her mind. After she was married and had several children an old man with long white hair and heard came to the house and asked for food. He was dressed neatly and was very clean. She prepared some for him and when he left, the children being curious, followed him outside. When they went around the corner of the house he was gone. There was no place he could have reached to be out of sight as there were no trees for some distance from the house. When the children told their mother, she said she thought he was one of the three Nephites. She believed it was a sign to her that the gospel was true.
When Emmi was twenty years old she came to Utah on the train with her family, reaching their destination in March, 1876. They settled in Springville where her mother's sister, Nancy Ballinger Hall was living. Nancy and her husband Edward Hall were converts to the Church and came to Utah as pioneers about 1849. Emmi's mother was baptized in December 1877 and Emmi in April 1879. Most of the other brothers and sisters became members in 1879 also.
Grandfather Williams did not join the Church in life. When he left his home in Connecticut, his father gave him a bible and counseled him to read the bible and be loyal to the church which his parents belonged to. He was respectful of his father's advice and never really listened to the gospel message. He was a respected and honorable citizen and did what he thought was best to help his children and was proud of all their achievements.
Emmi's family lived in the southeastern part of Springville and became acquainted with the Peterson family who were Swedish converts.
She married August Peterson, 9 February 1882.
Grandfather Williams took up a homestead of 640 acres and divided the land among his children. Emmi's land was on the east side of the main road south through Mapleton and was on the south end. A large canal or irrigation ditch ran westward through the land. They built a small house and as the land had many oak trees and brush on it, it had to be cleared. It took several years to hard work before this was accomplished.
Emmi's brother Tom had land on the west side of the road and farther to the west.
A Sunday School was organized in the south part of Mapleton and Uncle Tom was made Superintendent. Emmi helped him with the singing and teaching. All the members of the ward gathered the Sunday eggs and donated them to the Church. This custom was carried on for many years. My mother, Hilda Peterson Waddell, still remembers gathering the Sunday eggs to take to the Bishop.
A new brick house was built for the Peterson's family about 1890 with two bedrooms, a large kitchen, pantry and living room. The living room was finished some time after the rest of the house. It was also used as a bedroom part of the time. The yard had a grape arbor and large trees to provide shade. It looked very inviting and the family and their friends spent many happy hours there.
Grandfather raised ducks and geese and they enjoyed the big canal and the weeping willow trees by it. He also raised turkeys for many years. The large barn was filled with hay and lucky were the cousins who came to visit at haying time and got to ride the gentle horse to pull the hay up into the barn loft. There were trees along the canal bank and cherry trees in the garden.
Grandmother was a good cook and always had plenty of delicious nourishing food for the family.
In the summer the cows were herded on the hillside and this was a treat for visiting cousins also.
The children were Azua, born 6 October 1883; August Lester, born 24 April 1885; Charles Magnus, 14 December 1886 died 22 October 1887. Josephine, born 5 October 1888 died 1948; Myrtle, born 10 December 1890. Hilda, born 8 September 1892; Katie born 26 June 1896 and died 11 June 1900.
Emmi and her sisters also had a singing quartet and were heard in many occasions. She was accomplished seamstress. She sewed for the family and for other who paid for her sewing. She left a dress unfinished at the time of her death that was given to Annie Whiting.
She was always willing to help the neighbors with sickness. People knew they could call on her and had confidence in her ability to nurse the sick.
She was always anxious for her children to have a good education and helped every way she could. Azua became an excellent school teacher and so did Josephine. Lester was called to a mission in Sweden for two years. After Lester's death, his youngest son Grant went to the Swedish Mission and was made welcome by the same people his father had brought into the Church.
Myrtle resembled her mother and liked helping with sickness and home work. She was the house keeper for Belva Ballinger Bird when Belva passed away leaving a family to young boys. Myrtle stayed on with the family and was married to Ray Bird and had a family of four boys and two girls herself as well as raising the three boys Belva had left.
Hilda was married to Malcolm Waddell and has a large family and lives in Modesto, California.
One year before Emmi's death she had a dream that one of her sisters who had passed on came to her and said that she needed her help. She replied that she could not leave her family. She worried about the dream until another sister died so she reasoned that the other sister was taken in her stead.
Emmi died 6 December 1912 at her home in Mapleton, Utah, and was buried in the Evergreen cemetery next to her two children.
The Peterson house remained in the family many years after all the other family homes were sold to newcomers.
Please visit the Williams and Peterson Family Genforums.